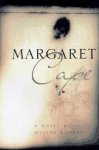 Judge's comments in awarding Wylene Dunbar the 1998 MIAL award for Outstanding Achievement in Fiction for her novel Margaret Cape:
"Far more than being notable for having the fiction category's outstanding cover design, Margaret Cape, although uncannily a first novel by Wylene Dunbar, not only dares to be more ambitious in scope than the other nine nominated works, but succeeds the most overall.
While admittedly there is a familiar ring to her central story of a fragilely elusive woman from the North mismatched in successive marriages to father and son Mississippians of the plantation elite, she transcends stereotype by reaching instead for probing psychological insight, exquisitely rendered nuance, and realistic emotion. To the narrative's core, moreover, she grafts a counterpointing and convincingly authentic legal suspense procedural. Together these interwoven strands both buttress and deepen the impact of the other in a well-plotted whole that rivets the reader's attention. Perhaps another apt title might have been A Fugue for Margaret.
Yes, here too are evidences of Faulkner's lingering influence: could it be otherwise for a Mississippi writer? And in spanning her multifaceted story from the title character's youth in Boston to the losses of a catatonic older age in the Delta, Ms. Dunbar etches into the surface flavorsome atmospheric detail on that intriguing place in addition to revelations of social change there culminating in the coming of the casinos. But her stellar achievement is piercing the inner life of a searingly memorable woman in prose often shimmering with sheer beauty."
Bob Summer, Southern Correspondent, Publishers Weekly and President, Southern Book Critics' Circle
Nashville, Tennessee